Treasury Operations reviews over 50,000 incoming electronic payments ANNUALLY using our System for Matching Accounts Receivable Transactions - SMART. All electronic payments to University bank accounts are reviewed daily and will display in the General Ledger (GL) two business days after receipt at the bank. Payments received on the last day of the month will be posted to the GL before the accounting close. The effective date of all transactions will be the bank receipt date.
SMART is a matching system that applies electronic payments to their intended department based on a variety of criteria, including sending company name, recipient name, bank account, invoice number, etc. Electronic payments that cannot be automatically matched by SMART are manually reviewed using the following resources:
Remittance details with the payment
Payment Notification Forms entered in SMART by departments that are expecting electronic payments. Please keep in mind the notification form is a tool for matching payments and every notification is not reviewed.
Historical payment data from the sending company. For example, if ABC Company typically pays a single University department, Treasury will assess if future payments can be applied there on a consistent basis.
Completion of the Payment Notification form in SMART helps to ensure the electronic payment is posted to the GL correctly. Verification that the payment has posted to the GL is the responsibility of the receiving department. Departments should use the TDR (GL-DSS) reporting to confirm the expected amount has posted to the correct MFK.
For each department, Treasury Operations will post ALL electronic receipts to a single MFK, which is provided by the department. Please email treasury-achwires@uiowa.edu if your department would like to change this MFK.
The department is then responsible for making the necessary journal entries if an electronic receipt should be split between multiple MFKs.
Payment Details
To obtain additional payment details on electronic payments, simply locate the transaction on the TDR and click on the Journal ID for the transaction in question.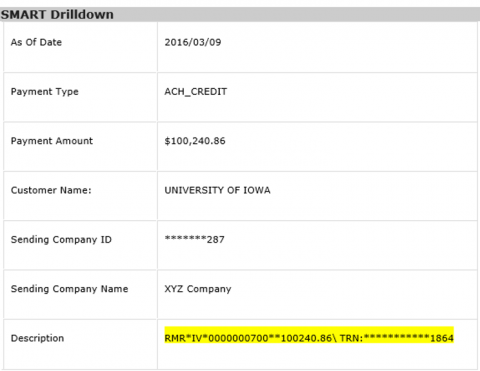 Payment Research Request
Departments that are unable to locate an expected electronic payment in their MFK should first check the central holding account MFK, where unidentified electronic payments are placed. If the payment still cannot be located, the department can then complete a Research Request form in SMART. Treasury Operations receives notification of each research request and will respond within 24 hours.